Park Avenue Psychotherapy
New York City, USA
WordPress Site Construction
Analytics & A/B Optimization.
 Pay-per-click ads
Google AdWords Campaign.
Conversion tracking.
500% return on ad spend.
Mission
In 2017, Patricia Haddon decided to open her own psychotherapy practice after completing her formal training. She needed a website to attract clients to the new practice, a local business listing so people could find it, and an email service with a contact form so she could be reached.
Later, after a decline in business during the COVID-19 crisis of 2020, Park Avenue Psychotherapy needed a way to bring in new clients for virtual therapy.
Strategic Plan
After building a simple WordPress site at parkavenuepsychotherapy.com, including information on the practice, therapist profiles, and a contact form, 24 North set up official email accounts for PAP with GSuite, with HIPAA-certified security measures to make sure sensitive client emails can never be compromised.
In order to attract new clients during the 2020 COVID-19 crisis, 24 North built an insurance provider-centred campaign on Google AdWords with keywords like "online counseling blue cross blue shield," "online psychotherapy services," and many more.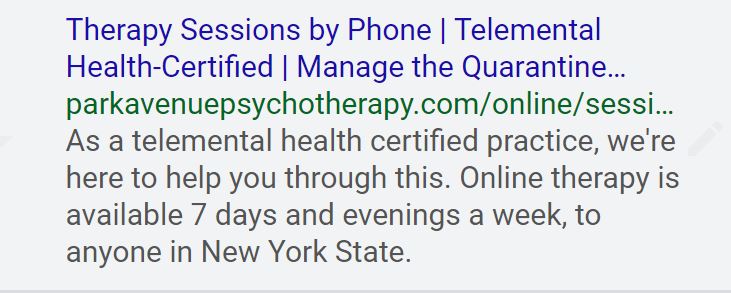 Results
Although the campaign started off with zero conversions, through A/B optimization of the homepage we were able to increase conversion rate to almost 10%. 
With the knowledge that clients at the practice have, on average, a total value of $2,100, we installed conversion tracking mechanisms and bid to acquire new clients for an average cost of $410, resulting in an ROI of over 500%